A couple of months ago, while visiting the ancient kingdom of Lanna (Thailand), we found ourselves at a pottery in the middle of the jungle. We had decided against searching for old or antique earthenware and instead focused on newly made pots that fit our style (handmade, old looking, fitting in wildly divers interior styles, unique with a flair of je-ne-sais-quoi).
However, we also focus on the story behind our products. So what is the story behind a newly made pot? Julie, the proprietress, understood our need and gave us a tour behind the scenes of pottery making in Thailand according to a thousands-year old system!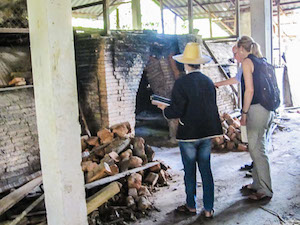 First, several moulds are made. At least 10 mould pieces are needed for one single shape of pot.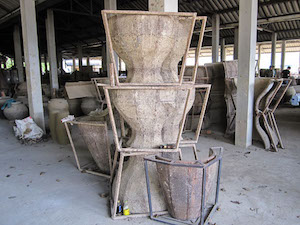 Clay is then applied by hand into the moulds, not sprayed. You can see this by the differences in thickness along the rim in comparison to the uniform application of sprayed clay. To support the clay, coconut fibers are added.
The clay dries within a week, the moulds are taken off, and decorative shapes are added to the pots. After more than one month drying time, the pots are finally put into the oven. During the two drying stages many pots will break: in the mould or by exposure to sun or wind.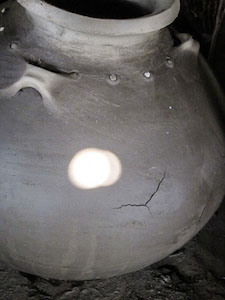 The kiln is prepared: Cleaned out from the last batch and completely cold again. If the kiln is still hot, the possibility rises that the next batch will have more cracked and useless pots. The pots are placed inside and all openings (except one hole where wood is added) are closed up with bricks. To warm up the kiln, hardwood is burned. After that, teakwood is used to reach the desired temperature and coconut shells are used to keep the fire going for days. Because the kiln uses wood instead of gas, the fire is not as controlled and the quality and colour of the resulting batch of pottery is always a surprise!
The pots are fired in the kiln for two days and three nights. The colour of the pots actually depend on how close to the fire they stand. The brightest colours appear on the pots closest to the fire. The pots in the kiln will need to cool down for seven days! And it takes one or two days longer for the kiln to cool completely down and be ready for the next batch!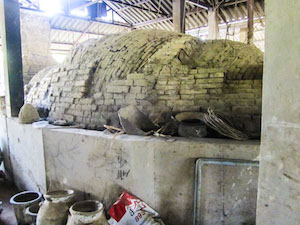 You can imagine it takes around 3 and a half months to make a pot!