The Silk Road Collection on the road … to Turkey!
Expanding our collection with epic Turkish pottery and other treasures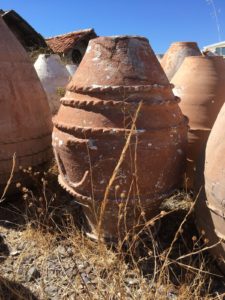 "It was hot and dry when my plane landed and dust choked the air when I found my car. Soon I was surrounded by Turkish desert. After hours of careful driving between sudden potholes and dangerous truck drivers, I got to my first destination: a big warehouse at the edge of town filled to the brim with an enormous amount of pots, jars, vases and vessels. The smiling and friendly man who received me wasted no time in pushing some (very welcome) water and strong Turkish tea in my hands. Some minutes later there was even a plate of kebab in front of me. When I caught my breath, I was ready to get started. I got out my phone and notebook and got up to do what I came for: sourcing the most epic pots I could find."
In 2022 we broadened our horizon by adding Turkey to the Silk Road Collection portfolio. For the first time we stepped outside Asia to be inspired by new cultures and ideas, while sourcing for our new additions to our ever-growing collection of pottery. The epic pots, jars, vases and vessels we found brought sparks to our eyes and made our imagination run wild with new design ideas and solutions for our client portfolio. Our new products are not yet listed in our online catalog, but stay tuned!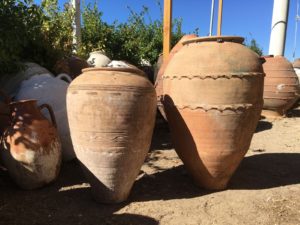 "At every stop , people kept giving me turkish tea and turkish coffee , I got watermelon and dates and fresh almonds and dried figs. Peppers and cheese and honey and bread. How can you refuse this amazing hospitality? It just makes it difficult to go to dinner after! The Turkish coffee was my favorite.
After learning all the history on ibriks and cezves, I was tempted to expand the search to antique brass and copper coffee pots. Still pottery, right?"
Why Turkey?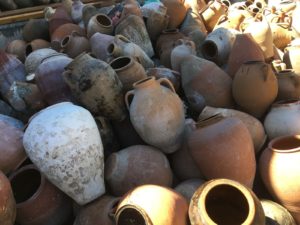 Turkey has a rich cultural legacy shaped by centuries of history and the influence of the various peoples that have inhabited its territory over several millennia. Technically still situated on the Silk Road, Turkey has a very diverse culture that is a blend of various elements of the Turkic, Anatolian, Byzantine, Ottoman (which was itself a continuation of both Greco-Roman and Islamic cultures) and Western culture and traditions. This mix originally began as a result of the encounter of Turks and their culture with those of the peoples who were in their path during their migration from Central Asia to the West.
Pots with a Story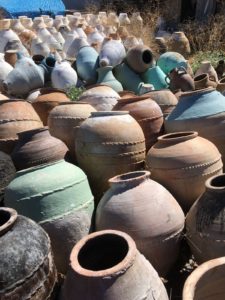 The Turkish cultural legacy brings us fertile grounds for sourcing pots that are not only epic in looks, but also for our accumulation of stories surrounding the pots, jars, vases and vessels. While in the old days they were used for mostly regular daily activities, they prove today to be objects of aesthetics and history. The art of Turkish ceramics developed in Anatolia in the earliest ages of the region, and play a very important role in Turkey's history and culture. Turkey's history of ceramic production dates back to about 10,000 years, with different types developing in multiple regions.
"I love Turkish culture. People are incredibly friendly and hospitable. I wouldn't mind coming back here soon for some more sourcing! I am excited to see what our clients would think of the new collection." – Sophia, the Silk Road Collection