Our long time fans know that one of The Silk Road Collection specialties lies in finding beautiful and unique pots all over Asia. It is not just a big part of our business, we really LOVE finding these pots and placing them in new interiors and exteriors. You could map our journeys by the pots we have found: so let's have a quick look at the collection!
Most of our collection comes from China. Such as the rural style grey pots,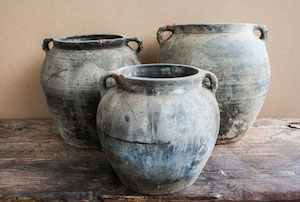 which we also repurpose as lamps:
modern looking (but actually old) black glazed pots,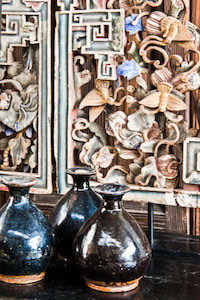 which we sometimes repurpose as flower pots;
antique turquoise pots,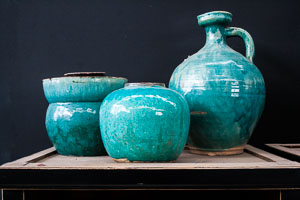 that became minimalistic modern plant or orchid pots;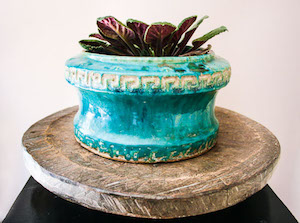 and even 2000-year old Han vases!
As very daring interior decorators we even turned some Han vases into lamps!
Every size and style of matte grey pots, black glazed pots, turquoise vases and beautiful Han silos: we have imported these kind of pots from China for years!
We also often venture outside of China and find some different kind of pots. For example, bronze milk tea containers in Tibet,
and heavy bronze cooking pots and earthenware water pots in Nepal,
and antique round Burmese water pots.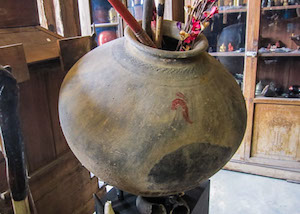 Even when the pots were broken and repaired, we still saw the beauty in these pots. Visible repair can enhance the overall charm of an old pot. Like the beautiful "stitches" we saw on rare pots in Iran,
and the Japanese "Kintsugi" techniques we saw on porcelain in several exhibitions. Inspired by these techniques we applied them to several of our broken pots! (And, success! Clients liked the idea!)
Some of our pots are newly made, but the stories behind them are not. Our huge Thai pots are made according to thousands-year old techniques still applied today!
New or antique, earthenware or bronze or wood, repurposed or objet d'art: You will probably find them all in our warehouse! Check out the product page for pots and lamps or contact us directly!
Here are some more pictures of pots: